Auburn University Libraries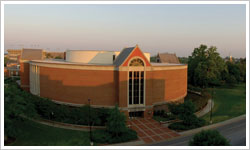 The combined collections of the Auburn University Libraries contain over 3 million volumes as well as 2.6 million government documents, 2.5 million microforms, and over 148,000 maps. The Libraries receive over 35,000 current periodicals, many which are available online. The library also provides access to over 227 electronic databases and has over 10 million archival and manuscript items.
The library includes other online collections like the Auburn University Digital Library and the Graduate School's Electronic Theses and Dissertations collection.
Collections in this community
Recent Submissions
Most archival collections will have more than one user group or audience. Anticipating the most likely audience(s) for a given collection and thinking about the needs of the expected audience(s) should help the repository ...

This qualitative study explored possible adaptions to the roles of librarians working in the reference department of a southeastern academic research library. The study used focus groups to investigate new directions for ...

A policy statement issued by the American Historical Association (AHA) in July 2013 recommended that institutions with mandatory deposit allow creators to embargo their ETDs for a period of up to six years. The reason given ...

Faculty who are gathering materials in preparation for a third year, tenure or promotion review may often contact their subject librarians or ILL to get publications or specific data about selected journals, including ...

It is not uncommon for both academic and public librarians to have items, especially gift books, that are in another language that they have either to evaluate for addition to the collection or to catalog. Quite often, ...

As part of the new budget model implementation, our University created the Central Unit Allocations Committee to review and evaluate all campus units' financial plans. This committee was comprised of academic and non-academic ...

Creating worksheets for instruction sessions that require students to think critically can be a challenge, especially when the librarian only has 50-minutes to introduce and discuss a concept. I will share strategies for ...

Based on article of the same name: http://hdl.handle.net/11200/48586

This study examines the current and emerging research practices of academic and extension faculty from the field of agriculture at Auburn University in order to identify the resources and services that faculty need to be ...

Museum records and formal scientific information are essential, but not always sufficient, to adequately document the historical distribution, abundance, and cultural traditions associated with wildlife species. Though we ...

When a large public university made a commitment to e-learning in its five-year strategic plan, the coordinator for the university library's information literacy instruction program recognized the need for online instructional ...

Many libraries participate in collaborative multi-institution digital collection projects because they promise to make it easier for end-users to find our materials. Creation and maintenance of these projects involves ...

Embargo periods for Electronic Thesis and Dissertation (ETD) collections require librarians to balance the needs of content consumers (end-users) with those of content creators (ETD authors)--consumers want access to ...

Academic libraries with learning commons host a wider variety of student services than ever before. In addition to traditional research help, students come to learning commons for technology support, academic advising, ...

Purpose: 1) To determine which databases are commonly recommended for students in speech-language pathology (SLP) and audiology programs 2) To compare journal indexing in those databases to decide which ones should be ...

Objective: Readcube is a patron-driven, document delivery system which provides immediate access to articles from all journals owned by the Nature Publishing group. The purpose of this study was to evaluate the use of ...

Objectives: To increase student engagement, both in a one-shot library instruction session and with the Pharmacy subject guide which provides supplemental instruction information. Methods: Setting/Participants: 151 first ...

AlabamaMosaic is a statewide project in which participating institutions create and manage their own collections of digital objects, and a central catalog makes these objects findable from the AlabamaMosaic Web site. ...

From article abstract: "The study has two aims. The first is to identify words and phrases from information literacy and rhetoric and composition that students used to justify the comparability of two sources. The second ...