Auburn University Libraries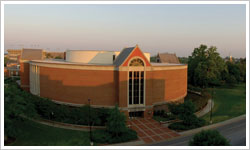 The combined collections of the Auburn University Libraries contain over 3 million volumes as well as 2.6 million government documents, 2.5 million microforms, and over 148,000 maps. The Libraries receive over 35,000 current periodicals, many which are available online. The library also provides access to over 227 electronic databases and has over 10 million archival and manuscript items.
The library includes other online collections like the Auburn University Digital Library and the Graduate School's Electronic Theses and Dissertations collection.
Collections in this community
Recent Submissions